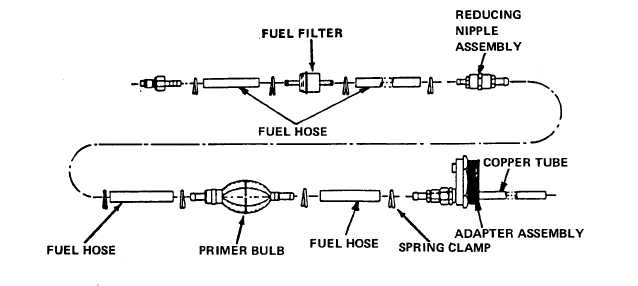 TM 10-4130-239-14
4-43
FUEL HOSE REPAIR
This task covers:
Disassembly  and  Assembly.
Tools
Materials/Parts:
Tool Kit, General Mechanic's
Hose, para F-7
item 1, Appendix B
Hose, para F-8
Tube, Copper, para F-9
Tape, Anti-seize, item 33,
Appendix B
Remove  spring  clamps.
Remove fuel hose, adapter assembly, fuel
filter,  reducing  nipple  assembly,  or  primer  bulb.
1.
Install new fuel filter, adapter assembly, reducing nipple
assembly, or primer bulb.
Replace fuel hose with bulk hose.
2.
Install hose spring clamps.
4-98