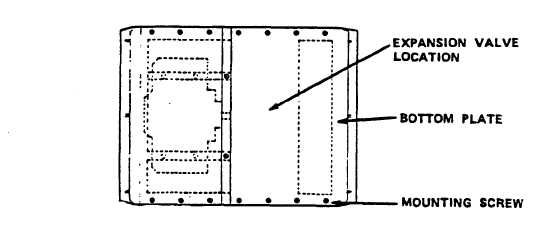 TM  10-4130-239-14
5-19.
EXPANSION VALVE REPLACEMENT

(CONT)
7.
Again observe low pressure gauge.
Pressure should reduce to
about 30 psi (207 kN/m2).
If pressure is not reduced to 30 psi
or falls below 25 psi (172 kN/m2), the expansion valve is
defective and should be replaced.
8.
Stop. engine, close all valves and disconnect gauges.
9.
Install service valve protective caps.
10. Slide clamps upon expansion valve bulb and suction line.
11. Tighten screws in expansion valve bulb clamps, ensuring good
contact along the entire length of the bulb.
12. Replace insulation surrounding expansion valve bulb with tie
wraps.
1.
2.
3.
4.
5.
Drain engine oil (para 4-l).
Cut tie wraps and remove insulation from expansion valve bulb.
Loosen two expansion valve bulb clamps and carefully slide clamps
free of expansion valve bulb.
Set water chiller on its side.
Remove 16 bottom plate mounting screws.
Remove bottom plate.
Clean threads in skid base using tap.
5-41