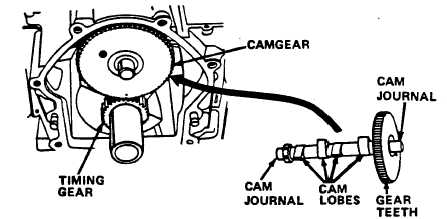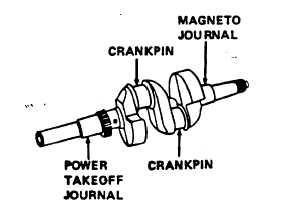 TM  10-4130-239-14
6-2.
CYLINDER BLOCK ASSEMBLY REPAIR  

(CONT)
9.
10.
11.
12.
13.
14.
Check piston pin bearing size.
If greater than 0.803 in. (20.40
mm),  discard  connecting  rod  assembly.
Repeat steps 8 and 9 with left connecting rod.
Check timing gear (removed in step 16) for broken or missing
teeth.
Replace if needed.
Check crankshaft keyways to make sure they are not worn or
spread.
If worn or spread so key does not fit, replace
crankshaft.
Check the following points on the crankshaft:
magneto  journal,
power  takeoff  journal,  and  crankpins.
Replace  crankshaft  under  any  of  the  following  conditions:
l
Power takeoff journal is less than 1.376 in. (34.95 mm).
l
Magneto journal is less than 1.376 in. (34.95 mm).
l
Crankpins are less than 1.622 in. (41.20 mm).
15.   Obtain camgear.
Check teeth on gear for nicks, wear,or
breakage.
If teeth are broken, nicked, or badly worn, replace
camgear.
6-9