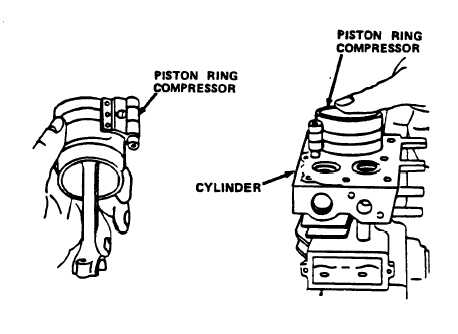 TM  10-4130-239-14
6-2.
CYLINDER BLOCK ASSEMBLY REPAIR  

(CONT)
8.
Install piston pin through piston and connecting rod assembly.
9.
Install remaining piston pin lock in piston assembly.
10. Repeat steps 6 through 9 for other piston.
11. Using engine oil, lubricate piston rings and piston skirts.
12.

Install rings on piston.
Stagger ring gaps.
13. Tightly compress piston rings, then loosen compressor very
slightly.
CAUTION
To prevent damage to piston rings, DO NOT try to
install piston and ring gear assembly without
ring compressor.
NOTE
l
Notch on top of piston must face flywheel side
of cylinder when installed.
l
Do not interchange parts.
6-14