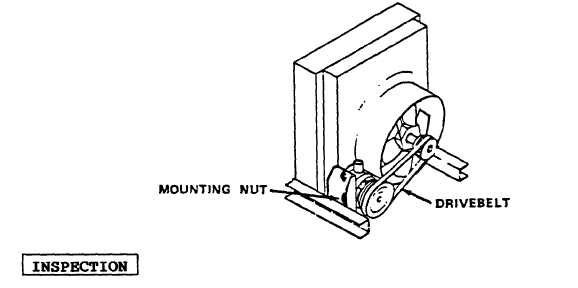 TM  10-4130-239-14
4-20.
WATER  PUMP  DRIVEBELT  REPLACEMENT  (CONT)
1. Look closely at belt for cracking, missing teeth and/or
areas.
Replace any belt in poor condition.
2. If water pump will not adjust to proper tension replace
3. With belt removed, inspect pulley for wear and damage.
worn or damaged, notify Direct Support.
frayed
belt.
If pulley
1. Loosen two mounting nuts.
2. Lift water pump, sliding mounting bolts up in holes.
3. Remove drivebelt from water pump pulley and pulley drive.
Lift
over fan to remove.
Install drivebelt on pulley drive and water pump pulley.
1. Push down on water pump, sliding bolts down in holes.
2.  Adjust  drivebelt
(2/3-centimeter)
3. Tighten mounting
to proper tension, about 1/4-inch
deflection at center of belt.
nuts.
4-29