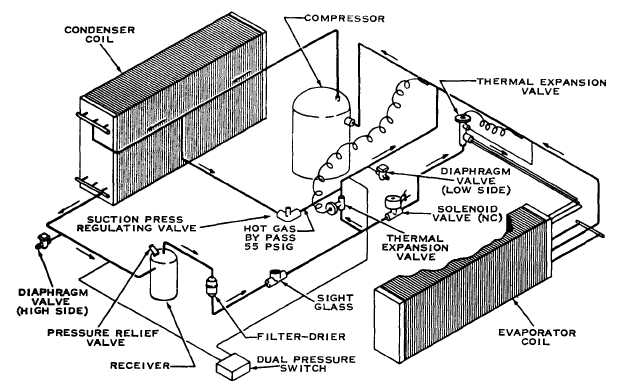 TM  5-4120-259-15
CHAPTER 4
FIELD AND DEPOT MAINTENANCE lNSTRUCTlONS
69. Scope
These instructions
Section  I.  GENERAL
71.  Description
are   published   for   the
use  of  direct  and  general  support  and  depot
For  a  complete  description  of  the  air  con-
maintenance   personnel   maintaining   the   air
ditioner see paragraph 3.
conditioning   unit.   They   provide   information
cm  the  maintenance  of  the  equipment,  which
72. Tabulated Data
is  beyond  the  scope  of  the  tools,  equipment,
personnel,  or  supplies  normally  available  to
General.   

This   paragraph   contains   all   the
ting    organizations.
overhaul  data  pertinent  to  direct  and  general
support   and   depot   maintenance   personnel.
70.  Record  and  Report  Forms
Refer  to  figure  5  for  wiring  diagram  of  the
air  conditioning  unit,  and  to  figure  27  for  the
Refer  to  paragraph  2.
unit  flow  diagram.
Figure   27.   Refrigerant   Flow   Diagram.
39