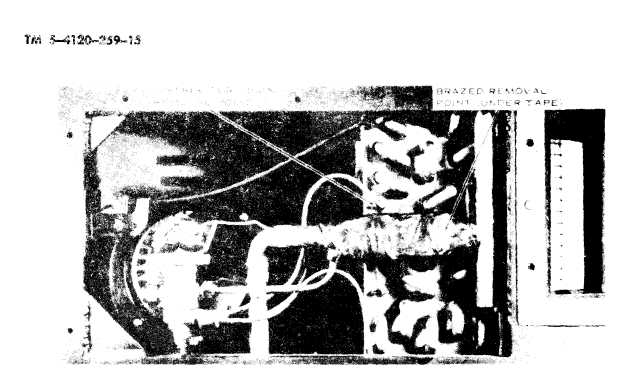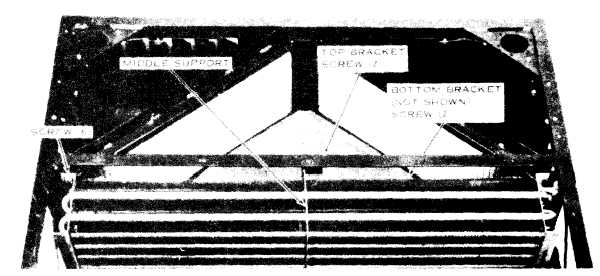 TM 5-4120-259-15
STEP  1.
REMOVE   UNIT   TOP   AND   SIDE   PANELS   (FIG.   13).
STEP   2.   DISCHARGE   THE   SYSTEM   AS   DESCRIBED   IN   PARAGRAPH   94.
STEP  3.
OBSERVING    INSTRUCTIONS    IN    PARAGRAPH    96.
UNBRAZE     ALL     TUBING
CONNECTIONS
INDICATED
AS
'"REMOVE
POINTS"
IN
ABOVE
ILLUSTRATION.
STEP  4.
REMOVE  4  SCREWS  WHICH  SECURE  TOP  AND  BOTTOM  BRACKETS  TO
MIDDLE
SUPPORT.
STEP  5.
REMOVE   FILTERS   (FIG.
12)   AND   REMOVE   6   SCREWS   WHICH   SECURE   COIL
AT   ENDS.
CLEAN
ACCUMULATED   DUST   AND   DIRT   FROM   COIL   WITH   COMPRESSED   AIR.
INSPECT 
COILS,   FINS,    AND   ALL   HARDWARE   FOR   DEFECTS   OR   DAMAGE.
DAMAGED    OF    DEFECTIVE    PARTS.
REPLACE
INSTALL 
COIL   IN   REVERSE   ORDER   OF   REMOVAL.
Figure   35.   Evaporator   Coil,   Removal   And   Installation.
50