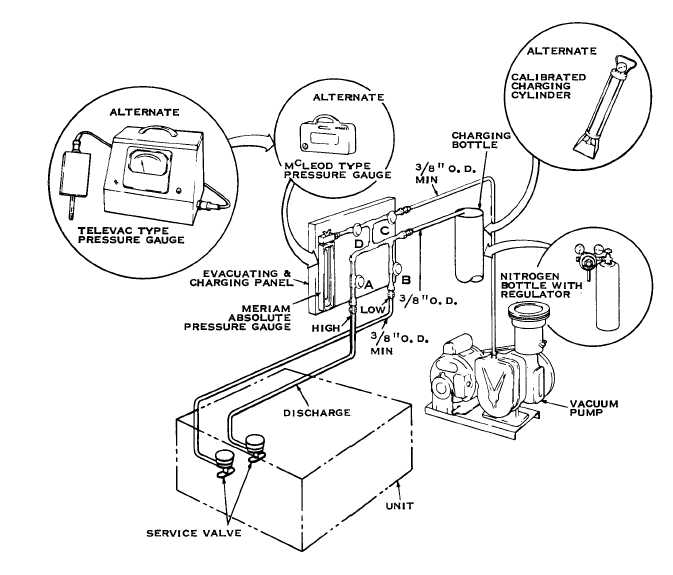 TM  5-4120-259-15
Figure   37.   Refrigerant   System   Discharging,   Evacuating   And   Charging   Arrangement..
d.  Making  Brazed  Joints.
(4)  Slip  tubing  into  fitting  until  it  seats
properly.
(1)   Cut   tubing   according   to   paragraph
(5)   Blow   all   traces   of   refrigerant   from
a,  above.
that part of the system which is to be
brazed   before   applying   heat.   Oil
(2)  If  not  perfectly  round,  size  the  end
pumped nitrogen gas should be bled
of  the  tube  with  a  sizing  tool.
through   the   tubing   or   pipe   being
brazed   to   maintain   neutral   atmos-
(3)   Clean   the   ends   of   the   tubing   with
phere   within   the   tube.   This   should
crocus  cloth  or  wim  brush.  Do  not
be  continued  after  brazing  until
under  any  circumstances  use  sand-
temperature of the tube has been
paper,  emery  cloth  or  steel  wool  for
duced  below  the  temperature  of
this purpose.
idation.
the
re-
55