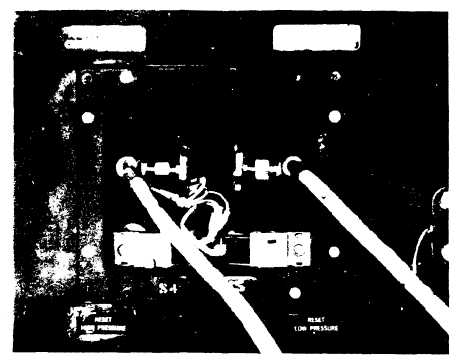 TM 5-4120-361-14
NOTE:
NOTE:
STEP  1.
STEP  2.
STEP 3.
STEPS 1,2,3 AND 4 APPLY ONLY TO A COMPLETELY
EVACUATED SYSTEM, A FULLY CHARGED SYSTEM CON-
TAINS 11.5 ± .5 POUNDS (5.23 ± .23 KG) OF REFRIGERANT
22. TO ADD REFRIGERANT TO AN INCOMPLETELY
CHARGED SYSTEM, REFER TO STEP 5.
WHENEVER  AVAILABLE,  USE  RECYCLED  REFRIGERANT
FOR CHARGING THE REFRIGERATION SYSTEM.
REMOVE SERVICE VALVE ACCESS COVER. REMOVE
VALVE CAPS AND LOOSELY CONNECT CHARGING MANI-
FOLD SERVICE LINES TO AIR CONDITIONER CHARGING
VALVES. ATTACH LINE FROM REFRIGERANT DRUM TO
MANIFOLD.
OPEN REFRIGERANT DRUM VALVE AND MANIFOLD
VALVES AND PURGE AIR BOTH FROM MANIFOLD AND
SERVICE  LINES.  TIGHTEN  SERVICE  LINE  CONNECTIONS
AT CHARGING VALVES AND CLOSE LOW SIDE VALVE ON
CHARGING  MANIFOLD.
POSITION REFRIGERANT DRUM UPSIDE DOWN ON A
SCALE. OPEN AIR CONDITIONER HIGH PRESSURE
CHARGING VALVE AND CHARGE SYSTEM UNTIL SCALE
INDICATES A FULL CHARGE, THEN CLOSE BOTH HIGH
PRESSURE  CHARGING  VALVE  AND  DRUM  VALVE.  DIS-
CONNECT  CHARGING  LINES  UNLESS.  DUE  TO  PRESSURE
EQUALIZATION IN DRUM AND AIR CONDITIONER SYS-
TEM, A FULL CHARGE IS NOT MEASURED. THEN PRO-
CEED TO STEP 4.
Figure 6-2. Charging refrigerant system (Sheet 1 of 2)
6-4
Change 4