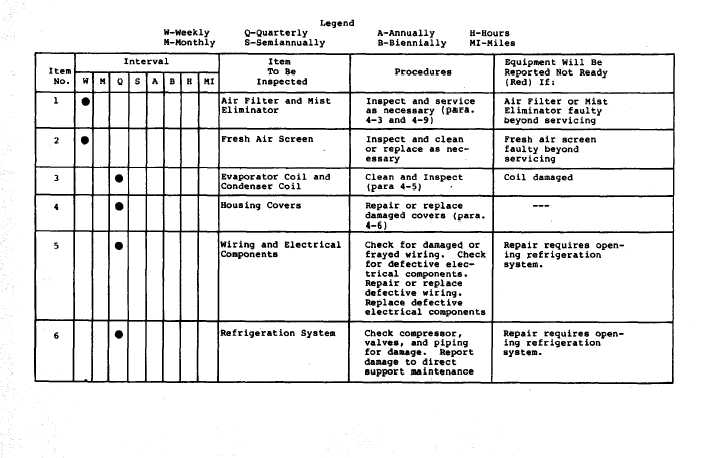 TM 5-4120-361-14
(para. 4-3
(para 4-5)
(para. 4-6)
Section  V.
PREVENTIVE MAINTENANCE CHECKS AND SERVICES
4-16.
General.
Periodic maintenance checks are re-
quired  by  organizational  maintenance
personnel to check the performance of
daily preventive maintenance services.
Additional  periodic  maintenance  services
are required beyond the scope of the op-
erator's maintenance.
4-17.
Quarterly  Preventive  Maintenance
Services.
a
.
This paragraph contains a tabu-
lated listing of preventive maintenance
services which must be performed by or-
ganizational  maintenance  personnel  at
quarterly intervals. A quarterly inter-
val is equal to three calendar months,
or 250 hours of operation, whichever oc-
curs  first.
b
.
The item numbers are listed con-
secutively and indicate the sequence of
inspection and minimum requirements.
Refer to table 4-1 for quarterly preven-
tive maintenance services.
c
.
Some services are required at a
shorter interval and are so noted.
Ser-
vice intervals should be shortened under
extreme or unusual conditions.
Table  4-1.
Organizational  Preventive  Maintenance  Checks  and  Services
4-7