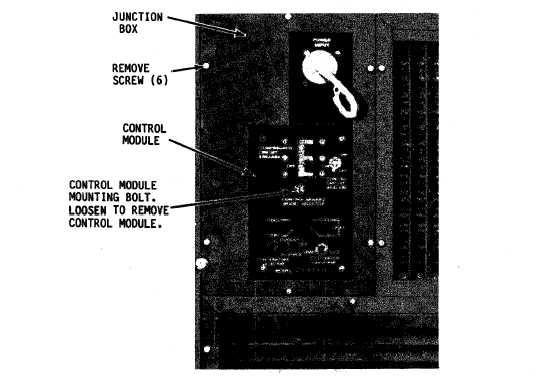 TM  5-4120-361-14
(3) Refer to figure 4-10 and re-
move control module and junction box.
c
.
Installation
.
(1) Refer to figure 4-10 and in-
stall control module and junction box.
(2) Refer to figure 4-4 and in-
stall top front cover.
4-26.
Control Module Components.
a
.
General
.
The control module com-
ponents consist of the compressor cir-
cuit breaker, control circuit breaker,
mode selector switch (rotary), tempera-
ture control switch, and the evaporator
fan speed relay switch.
All components
CAUTION:
CAUTION:
have the same inspection and test re-
quirements.
The compressor circuit
breaker is a safety device which pro-
vides overcurrent protection for the
compressor.
The control circuit break-
er provides protection for the DC con-
trol  system.
b
.
Inspection
and
Test
.
Before re-
moving any of   the control module compo-
nents-check for loose connections,
pitted contacts, and cracked or broken
casings.
Refer to wiring diagram (fig-
ure 1-5) and check for continuity with
a  multimeter.
If no continuity exists
with the circuit breaker in the ON posi-
tion, or if a casing is broken or
cracked, replace the circuit breaker.
BEFORE  ATTEMPTING  TO  FULLY  REMOVE  CONTROL  MODULE  OR  JUNCTION  BOX,  DISCONNECT
THERMOSTAT  SENSING  BULB  FROM  HOUSING  AND  CAREFULLY  THREAD  BULB  THROUGH  OPENING
INJUNCTION  BOX.
DO NOT TURN CONTROL MODULE MOUNTING BOLT UNLESS UNIT HAS BEEN DISCONNECTED
FROM POWER SOURCE.
NOTE :
INSTALL JUNCTION BOX IN UNIT.
INSTALL CONTROL MODULE IN JUNCTION BOX.
OBSERVING CAUTION ABOVE ADD ATTACHING HARDWARE.
Figure  4-10.
Junction box and control module, removal and installation
4-19