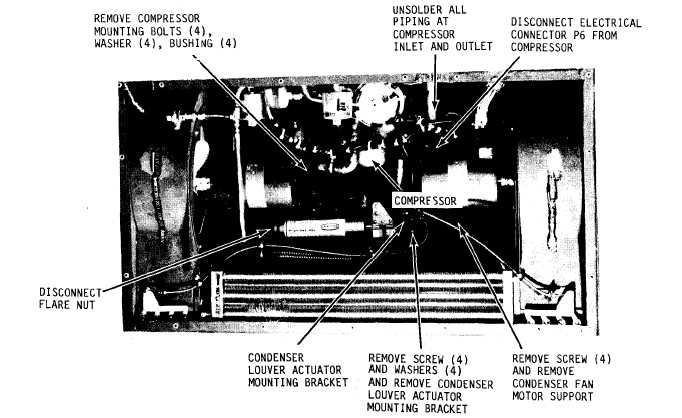 TM 5-4120-361-14
valves and other components of the re-
frigeration system are contained in this
section.
Refer to paragraph 5-6 before
performing maintenance on the refrigera-
tion  system.
5-17.
Compressor.
a
.
General
.
The compressor is a
self-contained hermetically sealed unit
and cannot be repaired.
b
.
Removal
.
Refer to figure 5-2 and
remove compressor as follows:
1.
Caution should be exer-
cised with fluorocarbon re-
frigerant gas (freons) as they
can displace oxygen and
thereby cause suffocation.
2.
Personnel with a history
or other evidence of cardiac
rhythm abnormalities should be
made aware of the potential
for aggravation rhythm abnor-
malities or the induction of
arrhythmias,    as a result of ex-
posure to fluorocarbon re-
frigerant gases (freons).
Such individuals should be
evaluated by local medical au-
thorities before working in
environments where potential
freon  exposure  may  occur.
(1) Refer to figure 6-1 and dis-
charge the refrigerant system.
(2) Refer to figure 4-4 and remove
top covers.
(3) Refer to figure 5-2 and dis-
connect condenser louver actuator with
bracket  attached.
Move aside without
altering actuator adjustments.
(4) Refer to figure 4-9 and remove
condenser fan motors and motor support.
(5)  Disconnect  electrical  con-
nector P1 from compressor, also
Figure  5-2.
Compressor and accumulator, removal and installation
5-8