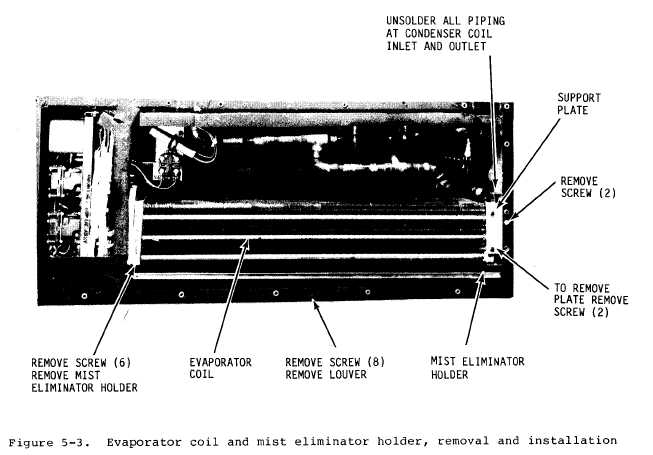 Figure 5-3.
TM 5-4120-361-14
(1) Install coil and mist elimina-
tor holder in air conditioner and secure
to brackets with six screws, washers,
and  lock  washers.
The upper four
screws, washers and lockwashers attach
both the coil and mist eliminator hold-
er; the lower two hold the coil only.
(2) Refer to figure 5-3 and install
coil support plate.
(3)  Connect  tubing  to  coil.  Leak
test as described in 5-6.
(4) Refer to figure 4-1 and install
evaporator air outlet louver.
(5) Refer to figure 4-18 and in-
stall heating elements.
(6) Refer to figure 4-4 and in-
stall housing top covers.
1.
Caution should be exer-
cised with fluorocarbon re-
frigerant gas (freons) as they
can displace oxygen and
thereby cause suffocation.
2.
Personnel with a history
or other evidence of cardiac
rhythm abnormalities should be
made aware of the potential
for aggravation of existing
cardiac rhythm abnormalities
or the induction of arryth-
mias, as a result of exposure
to fluorocarbon refrigerant
gases  (freons).
Such indivi-
duals should be evaluated by
local medical authorities be-
fore working in environments
where potential freon exposure
may  occur.
5-10