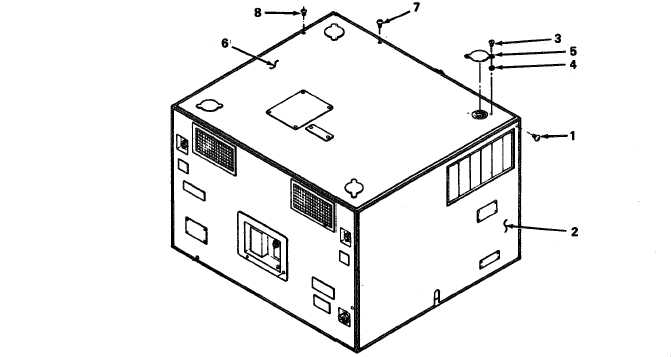 TM5-4120-375-14
4-67
DAMPERS  

AND CONTROLS (CONT.)
LOCATION/ITEM
ACTION
REMARKS
INSTALLATION
22. Top Panel
a. Align holes in top panel (6) with holes in frame.
b .
Secure top panel with twenty-three screws
(7)   and   eight   screws   (8).
23. Lifting  

Ring Covers
a. Align four lifting covers

(5) with top panel
and frame.
NOTE
Rubber washers are to be replaced between lifting ring cover and top panel.
b.
Secure lifting ring cover with eight screws  

(3)
and eight rubber  

washers  (4).
24. Right Side Panel
a. Align holes right side panel

(2)  with  holes  in
frame.
b.
Secure  right  side  panel  with  thirty-one
screws (1).