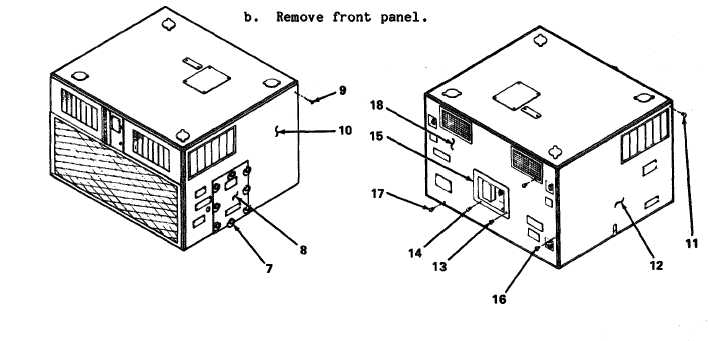 TM5-4120-375-14
WIRING  HARNESS  (CONT.)
LOCATION/ITEM
ACTION
REMARKS
REMOVAL
3.
Left Side

Panel
a. Loosen bottom center turnlock fastener  

(7)

on
maintenance  panel  (8).
b.
Remove  twenty-nine  screws  (9)  securing  left
side panel (10) and maintenance panel to frame.
e. Remove left side panel.
4.
Right Side Panel
a. Remove thirty-one screws
panel (12).
b.
Remove  right  side  panel
a. Remove four screws

(13)
(11) securing right side
to frame.
and four screws (14)
securing control box (15) to front panel and frame.
b.
Disconnect  electrical  connector  (P-6).
c. Remove control box.
6.
Front  Panel
a. Remove thirty-four screws (16) and two
screws (17) securing front panel (18) to frame.
4-89