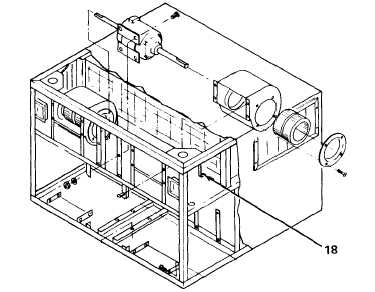 TM5-4120-375-14
EVAPORATOR FAN MOTOR AND HOUSING (CONT.)
LOCATION/ITEM
ACTION
REMARKS
INSTALLATION
CAUTION
Do not hammer the impeller onto the motor shaft. In case
of difficulty, dress out rough spots on the shaft with a
fine file, stone or abrasive cloth.
Apply a coating of
light oil to ease assembly.
CAUTION
Be  careful  to  avoid  damaging  fans  during  installation.
CAUTION
Center impeller in fan housing and spin shafts to be sure no parts
are rubbing.
Install motor so rotation is
sure arrows on fans indicate
12. Evaporator Fan Motor
and  Housing  Assembly
NOTE
toward front of unit and be
the same direction as motor rotates.
a.
Align   evaporator   

fan  housing  mounting  brackets
(18) with holes in evaporator fan housings.
4-110