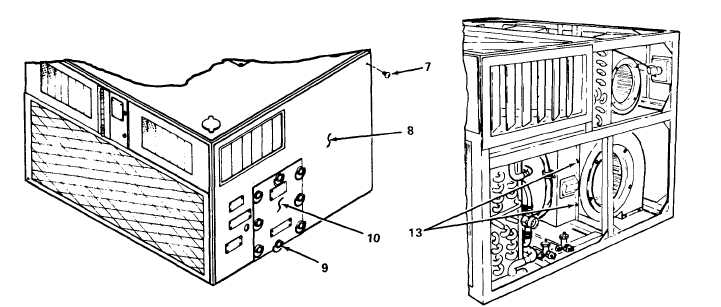 TM5-4120-375-14
CONDENSER FAN MOTOR AND HOUSING (CONT.)
LOCATION/ITEM
ACTION
REMARKS
REMOVAL
4.
Left Side Panel
a.
b.
c.
Remove twenty-nine screws (7)
securing left side panel (8) to frame.
Loosen bottom center turnlock fastener (9)
maintenance  panel  (10).
Remove left side panel and maintenance panel.
5.  Junction   

Box
a. Remove two screws (13) securing junction box
to support plate.
b. Release the two clamps that secure the
wiring harness to the junction box.
WARNING
servicing on the unit.
c.
d.
attempting  any  electrical
Disconnect  main  power  connector  before
Disconnect  two  electrical  connectors.
Remove junction box.
4-116