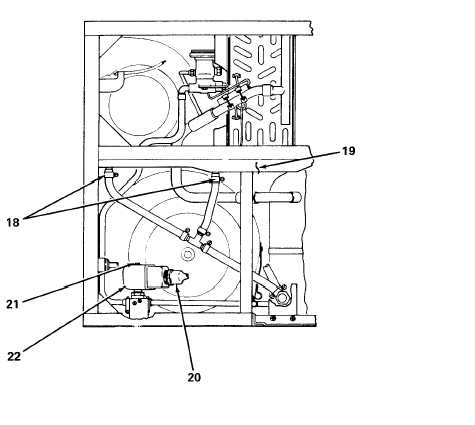 TM5-4120-375-14
CONDENSER FAN  MOTOR   

AND HOUSING  

(CONT.)
LOCATION/ITEM
ACTION
REMARKS
REMOVAL
6.  Condenser  Fan  Motor  and  Housing
d.
e.
f.
g.
h.
Remove  two  clamps  (18)  securing  condensate
drain lines to evaporator drip pan (19).
Move condensate drain line out of the way to
allow access to impeller.
Disconnect  electrical  connector  (P-8)  (20)
from solenoid valve.
Remove  retaining  cap (21) on solenoid
valve.
Remove solenoid valve coil assembly (22).
4-118