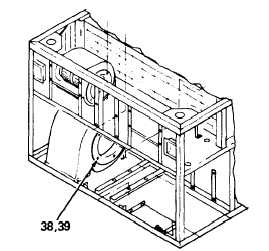 TM5-4120-375-14
CONDENSER FAN MOTOR AND HOUSING (CONT.)
LOCATION/ITEM
ACTION
REMARKS
INSTALLATION
12. Condenser Fan Motor & Housing
c. Align inside inlet rings with fan
housing (39).
d. Secure
inlet ring to fan housing
with four screws (38).
NOTE
Install right fan housing before fan motor and left fan housing.
f.
g.
Align right condenser fan housing with
holes in bottom of unit.
Install condenser fan motor, so that
the motor shaft is to the right as far
as possible.
4-126