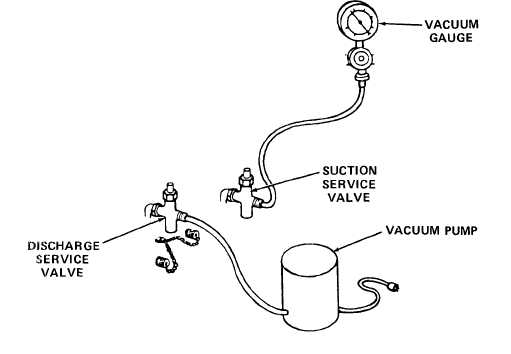 TM5-4120-375-14
5-17.

EVACUATING THE SYSTEM (cont.).
(1).
(2).
(3).
(4).
(5).
Presence of water vapor in the system.
Continued  pumping
will correct this condition.
Leaks in the refrigeration system.
Break the vacuum with dry
nitrogen (item 8,table D-1) and retest for leaks in accord-
ance with paragraph 5-16.
Internal leakage of vacuum pump. Test the pump by
connecting a vacuum gauge direct to the vacuum pump intake
and continue to pump. If pump still fails to reach
500-microns, the pump is faulty.
With the suction line service valve closed, disconnect the
vacuum pump and attach a cylinder of dry nitrogen
(item 8,table D-l). Leave the connection to the suction
service valve somewhat loose and open the nitrogen cylinder
shutoff valve slightly for a few seconds to purge the line of
air. Tighten the connection and crack the suction service
valve open slightly to break the vacuum.
Leave in this
configuration  until  the  system  reaches  atmospheric  pressure
(760mm) then close the suction service valve and the cylinder
shut-   off valve and disconnect the nitrogen cylinder.
Reconnect the vacuum pump to the suction service valve gauge
port and start the pump.    Open the suction service valve and
again pump until a 500-micron vacuum is achieved.
This
double evacuation will remove all traces of water vapor and
non-condensable gas from the system.
Close the suction
service valve and disconnect the vacuum pump.
Close the
discharge service valve and remove the vacuum gauge.
Charge
system in accordance with paragraph 5-18.
5-16