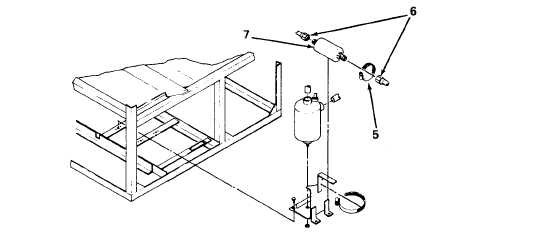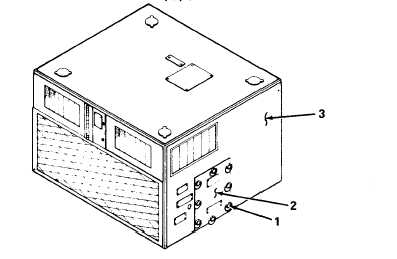 TM-4120-375-14
DEHYDRATOR  (CONT.)
LOCATION/ITEM
ACTION
REMARKS
INSTALLATION
4.
Dehydrator
a.
Install new drier (7) with band clamp (5) and
(Filter-Drier)
tighten  screw  to  mounting  bracket.
b.
Connect refrigeration tubing to flare nuts (6) at
each  end  of  the  dehydrator  (filter-drier)  and
tighten tubing flare nuts.
c.
Leak  check,  evacuate  and  charge
accordance  with  paragraphs  5-16
5.
Maintenance  Panel
6.
Pressure Test
system in
thru  5-18.
a.
Align holes in maintenance panel (2) with holes in
left side panel (3) and frame.
b.
Secure  maintenance  panel  with  eight  turnlock
fasteners (1).
Pressure  test  air  conditioner  in  accordance  with
paragraphs 5-19 thru 5-24.
5-48