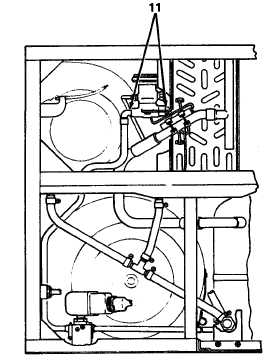 TM5-4120-375-14
5-51
THERMAL  EXPANSION  VALVE  (CONT.)
- - - - - - - - - - - - - - - - - - - - - - - - - - - - - - - - - - - - - - - - - - - - - - - - - - - - - - - - - - - - - - - - - - - - - - - - - - - - - - - -
LOCATION/ITEM
ACTION
REMARKS
- - - - - - - - - - - - - - - - - - - - - - - - - - - - - - - - - - - - - - - - - - - - - - - - - - - - - - - - - - - - - - - - - - - - - - - - - - - - - -
REMOVAL
2.
Thermal  Expansion  Valve
NOTE
Replace  flanged  base  only  if  damaged.
f.
Debraze copper tubing at valve joints (11)
in  accordance  with  paragraph  5-15.
CAUTION
Maintain a 1-2 cpm (0.1-0.2 M 3/Min) flow of dry nitrogen
through  the  refrigeration  system  to  prevent  oxidation  and
scaling  when  brazing  or  debrazing  components.
g.
Remove  power  assembly.