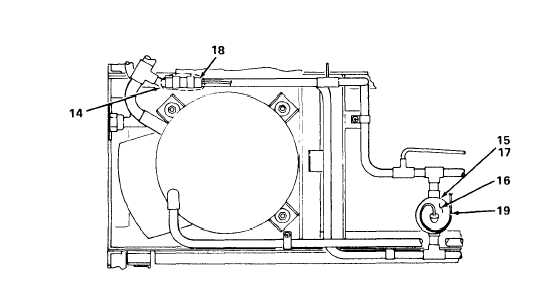 TM-4120-375-14
QUENCH VALVE (CONT.)
LOCATION/ITEM
ACTION
REMARKS
INSTALLATION
9.
Quench  Valve
a. Braze in accordance with paragraph 5–15.
b.
Install power assembly (16) on flanged base,
being careful to fit lugs on the cage assembly
into the cavities of the power assembly.
c.
Secure the flanged base (17) to the power
with two cap screws (15).
d.
Wrap the capillary tube (19) with insulating
tape (Item 6, table D-1), being careful to avoid
kinking the tube.
e.
Carefully install the sensing tube (18) to its
position on the suction line.
Clamp in position to
suction line.
Cover suction line, sensing bulb
and clamps with insulating material (Item 20,
table  D-1)
f.
Carefully  form  the  capillary  tube  along  adjacent
piping.
g.
Leak check, evacuate and charge system in
accordance with paragraphs 5-16 thru 5-18.
5-64