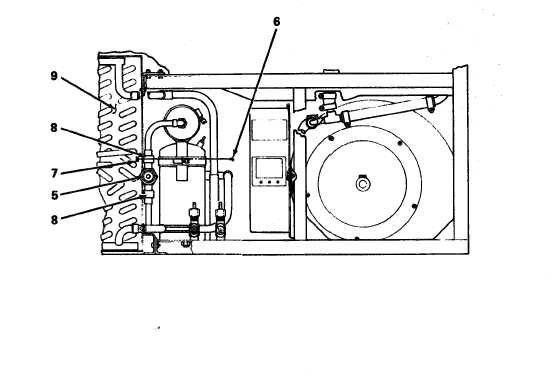 5-75
TM5-4120-375-14
SIGHT GLASS (CONT.)
-----------------------------------------------------------------
LOCATION/ITEM
ACTION
REMARKS
--------------------------------------------------------------------------
REMOVAL
2.
Sight   Glass
WARNING
All  refrigerant  gas  must  be  discharged
with the removal of the sight glass.
NOTE
Always  perform  inspection/test  and
to  remove  refrigeration  component.
from  the  system  before  proceeding
adjustment  before  discharging  system
a. Remove two screws (6),two locknuts (7)
and two clamps

(8)

securing sight glass (5)
to condenser coil (9).
b.
Remove  clamps  from  sight  glass.
c. Discharge the system in accordance with paragraph
5-12.
e. Debraze in accordance with paragraph 5-15.
f.
Remove sight glass.