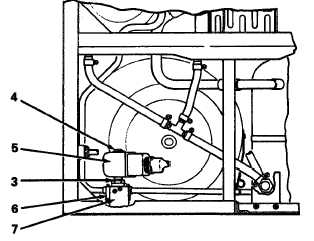 TM5-4120-375-14
SOLENOID  VALVE  (CONT.)
-----------------------------------------------------------------------------
LOCATION/ITEM
ACTION
REMARKS
-----------------------------------------------------------------------
REMOVAL
2.
Solenoid   Valve
WARNING
All refrigerant

gas

must be

discharged from the system  before proceeding
with the removal of the solenoid valve.
NOTE
Always  perform  inspection/test  and  adjustment
to  remove  refrigeration  component.
before discharging system
a. Disconnect solenoid valve electrical connector
(P-8).
b.
Remove  retaining  nut  (4),  washer,  nameplate  and
lift over the coil (5) from solenoid body (3).
c. Remove two U-bolts (6) securing solenoid valve
to  solenoid  valve  mounting  bracket  (7).
d.
Discharge the system in accordance with paragraph
5-12.
e. Debraze solenoid valve in accordance with
paragraph  5-15.
f.
Remove  solenoid  valve  base.
5-79