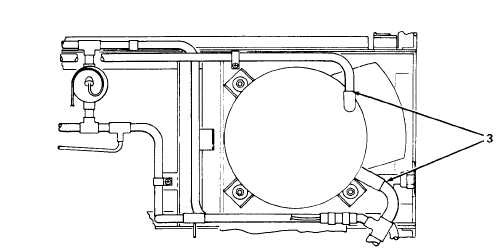 TM-4120-375-14
COMPRESSOR (CONT.)
LOCATION/ITEM
ACTION
REMARKS
REMOVAL
2.
Right  Side  Condensate
Drain Line
Remove in accordance with paragraph 4-21.
3.
Compressor
All  refrigerant  gas  must  be  discharged  from  the  system  before  proceeding
with the removal of the compressor.
NOTE
Always  perform  inspection/test  and  adjustment  before  discharging  system
to  remove  refrigeration  component.
a.
b.
c.
d.
Disconnect  electrical  connector  (P-1)  from
compressor.
Remove  rubber  insulation  from  suction  line.
Discharge  system  in  accordance  with  paragraph
5-12.
Debraze  compressor  (3)  in  accordance  with
paragraph 5-15.
5-84