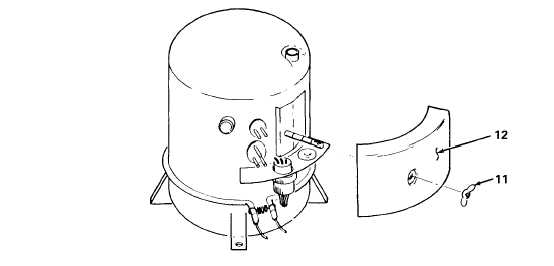 TM5-4120-375-14
COMPRESSOR (CONT.)
LOCATION/ITEM
ACTION
REMARKS
INSPECTION
4.  Compressor
a. Inspect for damage.
b.
Repair or replace if damaged.
TEST
5. Compressor
a. Disconnect plug (P1), from the electrical junction
box on the compressor.
b.
Remove  wing  nut  (11)  securing  compressor
junction box cover (12) to compressor.
c.
Remove  compressor  junction  box  cover.
CAUTION
Schematic is not correct red, white and black wires are yellow wires
striped with red, white and black respectively.
d.
Using a multimeter check for continuity.
1.
COMPRESSOR  MOTOR
Test  compressor  receptacle  pins  A-B,  A-C,
B-C, and D-E. Continuity should be
indicated.
Test points A, B and C to
compressor  casing  or  common  ground.  No
continuity  should  be  indicated.
Replace
compressor  that  does  not  meet  continuity
requirements.
5-86