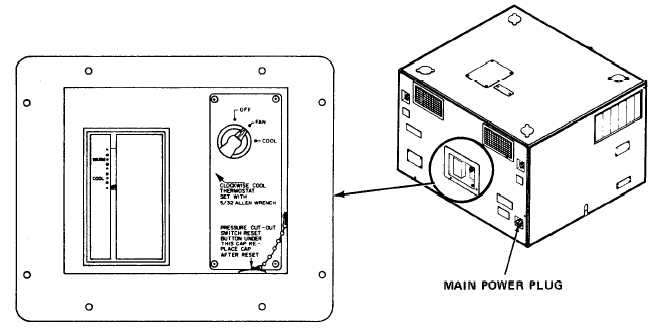 TM5-4120-375-14
SECTION III.
OPERATOR  TROUBLESHOOTING  TABLE
TABLE 3-1
OPERATOR  TROUBLE  SHOOTING  TABLE
MALFUNCTION
TEST  OF  INSPECTION
CORRECTIVE  ACTION
VENTILATION  MODE  (ONLY)
1.
AIR CONDITIONER FAILS TO OPERATE.
WARNING
Be careful when working with high voltage.
Failure to comply can result
in serious injury or death.
Step 1.
Check to see if main power cord is plugged in.
Connect power cable to air conditioner.
Step 2.
Check to see that power supply circuit breaker is in the
ON position.
Place circuit breaker to the ON position.
Step 3.
Check to see if selector switch is in fan position.
Place selector switch in fan position.
3-2