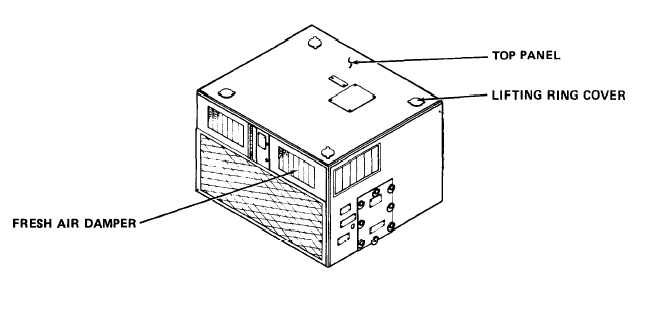 TM5-4120-375-14
Table  4-2.
TROUBLESHOOTING  (cont.)
MALFUNCTION
TEST OR INSPECTION
CORRECTIVE  ACTION
S t e p    3 .
Check for correct operation of condenser fan assembly.
Step  

4.
Check
Replace or repair damaged condenser fan
assembly  in  accordance  with  paragraph
4-26.
fresh air dampers.
Remove eight screws and eight rubber washers
securing lifting ring covers to top panel and
frame.
Remove lifting ring covers.
Remove  twenty-three  screws  and  eight  screws
securing top panel to frame.
Remove top panel.
Inspect for freedom of movement, lubricate if
required (Item 17, table D-1).
Tighten  loose  mountings.
Replace or repair fresh air dampers, in
accordance  with  paragraph  4-20.
4-16