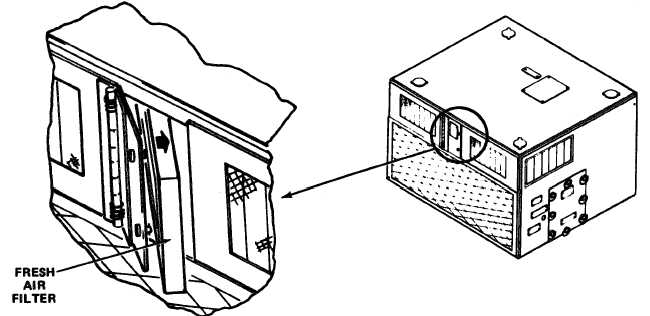 TM5-4120-375-14
Table 4-2.
TROUBLESHOOTING  (cont.)
MALFUNCTION
TEST  OR  INSPECTION
CORRECTIVE  ACTION
Step   5 .
Check  evaporator  fresh  air  filter.
Loosen  two  turnlock  fasteners  on  air  filter
panel door.
Open door.
Slide air filters out of unit and inspect
filters.
Spray filters with a water hose in opposite
direction of air flow (see arrow on filter
frame)  .
Shake water from filter and allow to dry
before  installing.
Inspect air filter for damage.
Replace  air  filter  if  damaged  in  accordance
with  paragraph  4-19.
CAUTION
Do not use oil on filters.
4-17