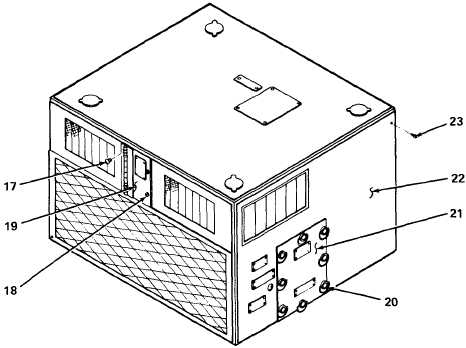 TM5-4120-375-14
PANELS (CONT.)
LOCATIONS/ITEM
ACTION
REMARKS
REMOVAL
6.
Air Filter Panel
a.
b.
7.
Maintenance  Panel
a.
b.
8.
Left Side Panel
a.
b.
Remove two screws

(17) and loosen two turn
lock fasteners

(18)

securing air filter panel (19)
to  frame.
Remove air filter panel.
Loosen  eight  turnlock  fasteners  (20)  securing
maintenance panel

(21) to

left side panel (22)
and  frame.
Remove maintenance panel.
Remove  twenty-seven  screws  (23)  securing  left  side
panel (22) to frame.
Remove left side panel.
4-26