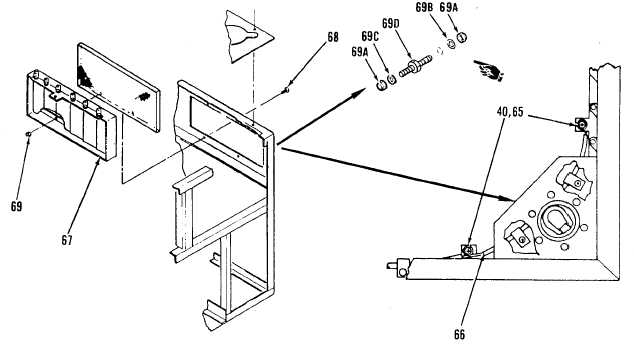 TM5-4120-375-14
DAMPERS AND CONTROLS (CONT)
____________________________________________   _________________________
LOCATION/ITEM
ACTION
REMARKS
_______________________________________________________________________________
REMOVAL
10. Right Fresh Air
Damper and Screen a.
b.
c.
d .
e.
Loosen screws (40) on mechanical post (65) securing
control cable (66) to right return air damper and
fresh air damper (67).
Pull control cable through control cable housing
until it clears mechanical post on right return air
damper.
Remove four screws (68) and four nuts (69)
securing right fresh air damper and
screen  to  frame.
Remove two lock nuts (69A), lock washer (69B),
flat washer (69C), and grounding stud (69D).
Remove fresh air damper and screen.
4-56
Change 1