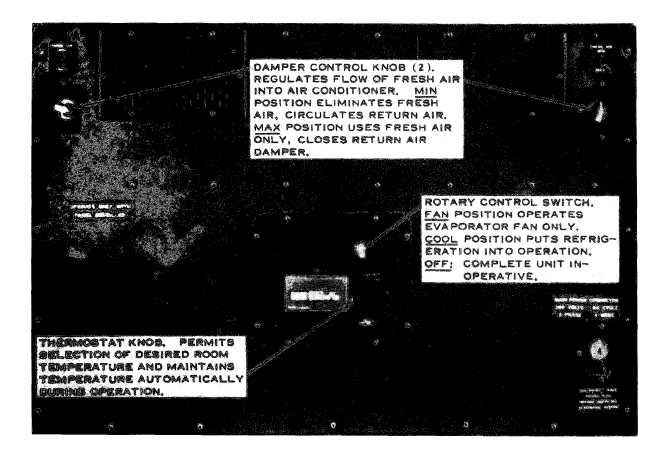 TM  5-4120-259-15
Figure   7.   Controls   And   Instruments.
18. Operation in Extreme Cold
Take  all  necessary  precautions  to  protect  the
air conditioner from snow and ice. Clean loose
snow from around intake area. Use a canvas
cover   for   protection   when   the   unit   is   not
operating.
19. Operation in Extreme Heat
Keep  condenser  and  evaporator  coils  and
fans   clean   at   all   times.   Keep   filters   well
cleaned  and  see  that  there  are  no  obstructions
which  could  obstruct  the  flow  of  cooling  air.
20. Operation in Dusty or Sandy Areas
a.  

Every   effort   should   be   made   to   keep
dust  or  sand  from  the  interior  of  the  air  con-
ditioning unit. After exposure to dust or sand,
the air filters should be thoroughly cleaned as
owned  in  paragraph  55.  Also,  all  other  parts
in the unit should be checked and all dust and
sand  removed.
b.

When  it  is  necessary  to  operate  the  air
conditioner   for   extended   periods   of   time   in
dusty or sandy areas, a checking and cleaning
procedure  should  be  followed  at  regular  in-
tervals  to  prevent  accumulation  which  could
impair  the  operating  efficiency  of  the  cooling
system.
21. Operation Under Rainy or Humid
Conditions
Take special precautions to keep the air con-
ditioner clean and dry. Use a canvas cover for
protection  when  the  unit  is  not  in  operation.
Remove  cover  during  dry  periods  and  allow
equipment to dry.
22. Operation in Salt Water Areas
If the equipment is exposed to high humid-
ity  in  salt  water  areas,  all  accessible  parts  of
9