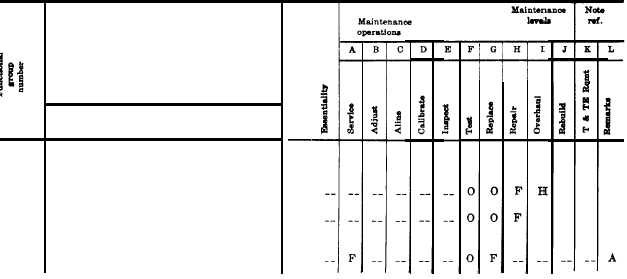 Functional

group

number
TM  5-4120-259-15
made  commensurate    with   test   proce-
dures  and  with  calibrated  took  and/or
test equipment referenced in the Main-
tenance  Assignment.
G-REPLACE:   Substitute   serviceable   com-
ponents,  assemblies  and  subassemblies
for   unserviceable   counterparts   or   re-
move  and  install  the  same  item  when
required  for  the  performance  of  other
maintenance  operations.
H-REPAIR:  Restore  to  a  serviceable  con-
ditiion by replacing unserviceable parts
or  by  any  other  action  required  using
available   tools,   equipment   and   skills-
to   include   welding,   grinding,   riveting,
straightening,  adjusting  and  facing.
I-OVERHAUL:  Restore  an  item  to  a  com-
pletely   serviceable   condition   (as   pre-
scribed   by
serviceability
standards
developed  and  published  by  the  com-
modity  commands)  by  employing  tech-
niques  of  "Inspect  and  Repair  Only  as
Necessary"   (IROAN).   Maximum   use
of   diagnostic   and   test   equipment   is
combined   with   minimum   disassembly
during   overhaul.   "Overhaul"   may   be
assigned  to  any  level  of  maintenance
except    organizational,    provided
the
time,   tools,   equipment,   repair   parts
authorization,  and  technical  skills  are
available  at  that  level.  Normally,  over-
haul as applied to end items, is limitedl
to  depot  maintenance  level.
J-REBUILD:  Restore  to  a  condition  com-
parable   to   new   by   disassembling   to
determine  the  condition  of  each  com-
ponent   part   and   reassembling   using
serviceable, rebuilt, or new assemblies
subassemblies,  and  parts.
d. Reference Note.

This column, subdivided
into   columns   "K"   and   "L",   is   provided   for
referencing
REMARKS  (sec.  IV)  that  may  be  associated
with  maintenance  operations  (sec.  II).
3.  Explanation  of  Columns  in  Section  III
This paragraph is not applicable.
4. Explanation of Columns in Section IV
a. Reference Code.

This column consists of
two letters separated by a dash, both of which
are  references  to  Section  II.  The  first  letter
references  column  L  and  the  second  letter
references  a  maintenance  operation,  Column
"A"   through   "J".
b.  Remarks.  

This  column  lists  information
pertinent to the Maintenance Operation being
performed,  as  indicated  on  the  Maintenance
Assignment Section II.
SECTION II
MAINTENANCE   ASSIGNMENT
40
4000
52
5200
62
For: Model MA3-F23A
Component  assembly nomenclature
ELECTRIC   MOTORS
MOTOR    ASSEMBLY
Motor,   Electric,   1-1/2   HP,
Condenser
Motor,   Electric,   1/3   HP,
Evaporator
AIR    CONDITIONING    COMPONENTS
GAS    COMPRESSOR    ASSEMBLY
Motor   Compressor   Assembly