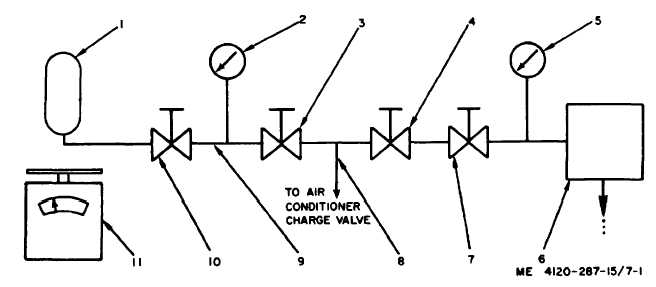 TM 5-4120-287-15
CHAPTER 7
REFRIGERANT SYSTEM REPAIR INSTRUCTIONS
_________________________________________________________________________________________________
Section I.  CHARGING THE REFRIGERANT SYSTEM
7-1.
General
a.
This section describes the methods used to charge, discharge and add oil to the refrigerant system; and to check
the system for refrigerant leakage.
b.
Make sure the refrigerant charging apparatus (fig. 7-1) is clean and in operational condition.
c.
When adding oil use a clean, moisture-free oil container. Cap oil container immediately after use to eliminate
moisture contamination of the oil.
7-2.
Precautions When Handling Refrigerant
Although refrigerant-12 is one of the safest refrigerants to handle, it is important that personnel observe the following
precautions in handling the refrigerant.
a.
Do not discharge refrigerant-12 into areas having exposed flames. A heavy concentration of refrigerant in contact
with a live flame produces a gas which is toxic and attacks bright metal surfaces.
I
Rarigeran-12 bottle
5
Vacuum gage
9
Refrigerant pressure hose
2
Pressure gage
6
Vacuum pump
10
Refrigerant-12 bottle valve
3
Refrigerant control valve
7
Vacuum pump shutoff valve
11
Platform scale
4
Vacuum control valve
8
Evacuation and charge hose
Figure 7-1.  Refrigerant charging apparatus.
7-1