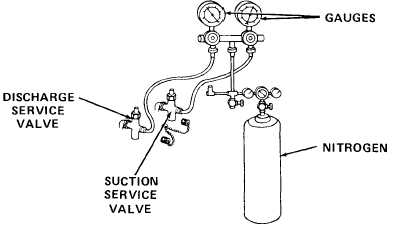 TM5-4120-375-14
5-14.  REPLACING  TUBING,
Purge system with
to 1200 F creates
FITTINGS  OR  REFRIGERANT  COMPONENTS.
WARNING
dry nitrogen prior to
phosgene gas.
soldering  refrigerant  heated
WARNING
Dry nitrogen is always used to purge the refrigeration system during
brazing  or  debrazing  of  connections  to  prevent  internal  oxidation
scaling.
NOTE
A careful; analysis of any trouble should first be made to determine if
replacement  is  necessary.   The cause of failure must be determined
before replacement is made.
a.
SYSTEM DISCHARGE.
Discharge system in accordance with paragraph 5-12 and 5-13.
b.
DEBRAZING  JOINTS.
(1).
Connect a cylinder of dry nitrogen (item 8,table D) to
the gauge port of the suction service valve.
Open the
cylinder shutoff valve and the suction service valve  slightly,
and completely open the discharge service valve to purge the
system of refrigerant gas.
Use 1-2 cfm (0.1 to 1.02 M 3/minute.
(2).
Unbraze those joints which must be removed in order to
replace  the  tubing,  fitting,  or  refrigerant  components  that  is
defective.
5-10