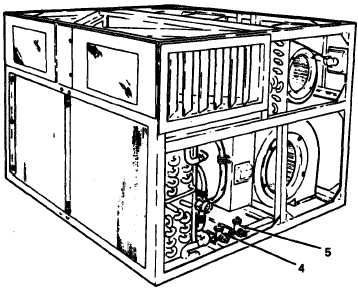 TM5-4120-375-14
5-13.  DISCHARGING  THE  REFRIGERANT  (cont.).
c.  Remove  caps  from  discharge  (4)  and  suction  (5)  service  valves.
d.  Install  changing  manifold  hoses  to  air  conditioner  service  valves.
NOTE
In  accordance  with  Environmental  Protection  Agency  regulations  refrigerants  cannot  be
discharged into the atmosphere. A refrigerant recovery & recycling unit must be used
whenever discharging the refrigerant system.
Operation of  

the

recovery/recycling  unit  must  be  by  AUTHORIZED  PERSONNEL
0NLY
e.
Connect  and  operate  a  recovery/recycling  unit  in  accordance  with  the  manufacturer's  instructions.
f. Connect a cylinder of dry nitrogen (item 8, table D-1) to the gauge port of the discharge service valve.
Open the cylinder shutoff valve and the discharge service valve slightly and completely open the
suction service valve to purge the system of refrigerant gas. Use 1-2 cfm (0. 1.02 M 3/minute).
NOTE
Dry nitrogen is always used to purge the refrigeration system during brazing or debrazing
of connections, to prevent internal oxidation scaling.
Change 2
5-9