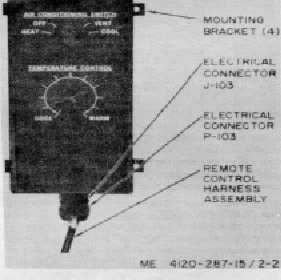 TM 5-4120-287-15
(4)
Examine the evaporator and condenser assembly air inlet filters for dirt, dust or other obstructions (para 3-
10 and 3-11).
(5)
Inspect  the  remote  control  box  assembly  air  conditioning  switch  and  temperature  control  rheostat  for
proper operation.
(6)
Examine the remote control wiring harness for possible defects (para 3-38).
(7)
Check the master circuit breaker for proper operation. Set master circuit breaker to OFF position.
(8)  
Make sure that a good fuse is in the electrical tray fuse holder (para 3-37).
(9)  
Inspect  the  air  conditioner  thermostat  for  physical  damage  and  security  of  mechanical  and  electrical
connections (para 3-39).
(10)
Check all air conditioner components for security of attachment.
(11)
Visually inspect the compressor area for indications of oil or refrigerant leaks.
(12)
Correct all deficiencies or report them to direct support maintenance.
(13)
Install all air conditioner housing panels and close the condenser discharge door (para 3-23 thru 3-30).
b. When using the air conditioner perform daily preventive maintenance services in accordance with paragraph 3-6.
2-4. Installation Instructions
a.
Due  to  conditions  which  may  vary  at  the  worksite  detailed  installation  instructions  are  not  provided  with  this
manual. Steps described in this paragraph are minimum installation requirements necessary for efficient operation of the
air conditioner. Adaptations should be made to conform with ductwork existing at the installation site. See figure 1-10 for
installation and base plan space requirements.
(1)
Using  the  lifting  method  described  in  paragraph  2-2c  (1)  or  (2),  position  the  airconditioner  in  the  appropriate
location on the shelter (or trailer) so that the  conditioned air outlet and recalculating air inlet ports line up with the provided
ducting at the installation site.
(2)
Make  sure  that  unobstructed  outdoor  ambient  air  flow  is  available  at  the  condenser  air  inlet,  condenser  air
discharge, and vent air inlet ports.
(3)
Secure  the  air  conditioner  to  its  mounting  base  using  the  eight  mounting  holes  provided  in  the  base  of  the  air
conditioner (fig. 1-10). When necessary, ruse shilms to level air conditioner.
Note.

An air tight seal must be maintained between external ducting and the air conditioner for efficient operation.
Make certain that the ducting and air conditioner are properly aligned after leveling air conditioner.
Mount the remote control box assembly on a wall or panel at a convenient level for operation.
Note
Remove electrical tray assembly panel (para 3-25) and store for future use.
(5)
Connect remote control wiring harness

pl

ug P103 to remote control box assembly receptacle J103 (figs. 1-3 and
2-2). Connect remote control wiring harness plug P102 to electrical tray remote control receptacle J102(figs. 1-3 and 2-3)
3).
Figure 2-2.  Remote control box. assembly.
2-3