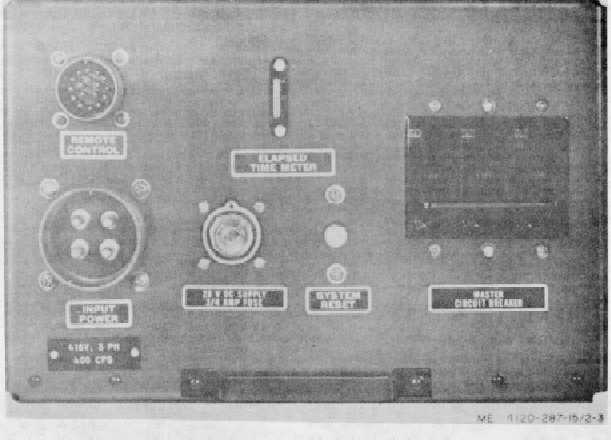 TM 5-4120-287-15
Figure 2-3.  Electrical tray assembly control panel.
Warning
Make sure Master circuit Breaker is set to Off Position before Connecting P102 to J102

.
(6)
Connect  input  power  plug  P101  to  a  416-volt,  3-phase,  400-sycle,  4-wire  power  soured.    Make  sure
ground wire of 4-wire source is connected to plug P101 terminal D.  Connect wire carrying phases 1,2,and 3 to plug P102
terminals A, B, and C, respectively.
Warning
Make sure main power supply is disconnected before attempting to wire P101.  Make sure master
circuit breaker is set to OFF position before connecting P101 to J101

.
(7)  Connect input power plug P101 to electrical tray input power receptacle j101(gig. 2-3).
Caution:
The air conditioner is wired to operate from a 416-volt, 3-phase, 400-cycle, 4-wire power source.  Make
sure ower source supply is correct before attempting start up.
(8)
Check  phase  relationship  by  starting  air  conditioner   in   accordance   with   paragraph   2-10.      If   the   air
conditioner does not start operating (as evidenced by no airflow from conditioned air outlet duct) perform the following:
(a)
Set master circuit breaker to OFF position, and disconnect main power supply.
(b)  Disconnect plug P101 from input power receptacle J101 and mainpower supply.
(c)  Switch any two"hot"leads at input power  plug P101.
2-4