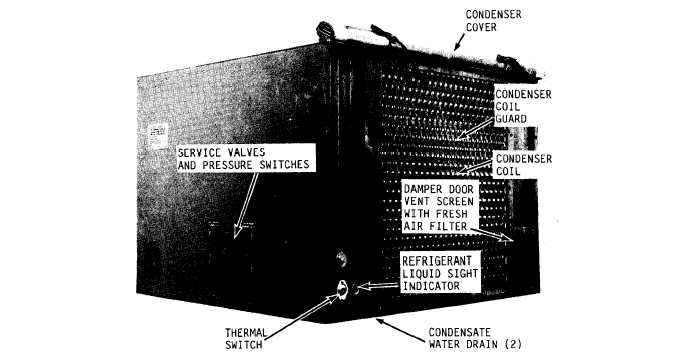 TM 5-4120-361-14
SF 368 (Quality Deficiency Report). In-
Blvd.,   St. Louis, MO 63120.
A reply
structions for preparing EIR's are pro-
will be forwarded directly to you.
vialed in TM 38-750, the Army
Mainte-
nance Managements System.
Mail directly
1-4.
Equipment and Serviceability
to Commander Headquarters, U. S. Army
Criteria.
Troop Support and Aviation Material Com-
mand, ATTN:
DRSTS-MEM,    4300 Goodfellow
This equipment is not covered by an
ECS.
Figure  1-2.
Air conditioner left rear, three quarters view
Section  II.
EQUIPMENT  DESCRIPTION
1-5.
Equipment  Purpose,  Capabilities
and  Features.
Air conditioner Model CH436-1 or
CH636-1 (figures 1-1 and 1-2) is a com-
pletely  self-contained,  compact,  hori-
zontal unit designed for cooling and
heating air to a desired predetermined
range, and circulating the conditioned
air to provide heating or cooling of
equipment or personnel within the air-
conditioned   area.
It is designed for
continuous operation, with varying
loads.
It is used primarily in van type
enclosures to provide the filtered cool-
ing and ventilating or heated air re-
quired to maintain service conditions
necessary for efficient operation of
electronic equipment and the comfort of
operating personnel.
It  is  equipped
with internal ducting so that ventila-
tion air may be drawn into the area be-
ing  air  conditioned.
The evaporator and
condenser sections of the air
condi-
tioner are separated by an insulated
metal partition that forms part of the
unit  housing.
1-6.
Location and Description of Major
Components.
a
.
Evaporator
Section
.
The evapor-
ator  section  (fig.   1-3), located in the
front of the air conditioner, contains
intake and discharge air louvers, air
filter,   mist  eliminator,  evaporator
coil, evaporator motor and fans, heater
elements, heater thermal protector, pri-
mary expansion valve, condensate drain
1-2