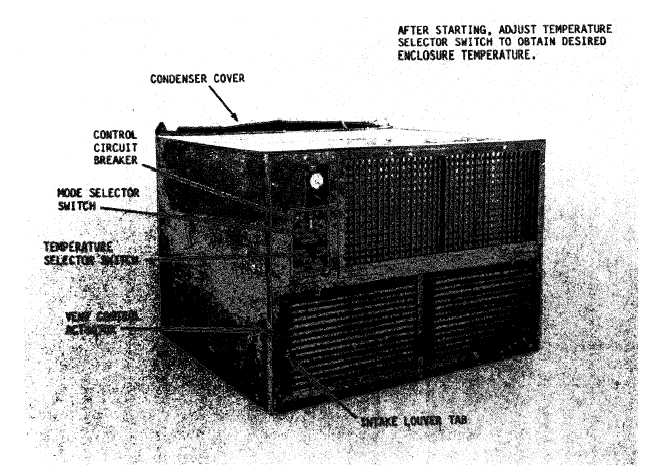 TM    5-4120-361-14
CAUTION
To avoid damage to the compressor
electrical input power must reapplied
to  energize  the  compressor  crankcase
heater at least 4 hours before opera-
ting unit in the cool mode. For pro-
longed  periods  of  storage,  long  shut
down periods or lengthly exposure
(14 days or more) to sub-zero temp
eratures,  the  preheater  should  be
energizad for twelve (12 hrs) prior
to. operation of the air conditioning
unit in the cool mode.
STEP  1.
ROLL UP AND TIE CONDENSER COVER.
STEP 2.
OPEN INTAKE LOUVERS BY LIFTING TABS.
STEP 3.
TURN  VENT  CONTROL  ACTUATOR  TO  CLOSE  VENTILATION  DAMPER.
STEP  4.
TURN TEMPERATURE SELECTOR SWITCH TO MAXIMUM CLOCKWISE
POSITION  (WARMER).
STEP 5.
TURN  ON  COMPRESSOR  AND  CONTROL  CIRCUIT  BREAKERS.
STEP 6.
TURN MODE SELECTOR SWITCH TO VENT AND ALLOW FAN TO REACH
FULL SPEED, THEN TURN TO COOL.
Figure  2-5.  Starting  instructions  for  cooling.
2 -9